Summer Dance Camp: July 5 - 28, 2023
At Moving in the Spirit's Summer Dance Camp, boys and girls ages 8-13 build confidence, community, and creativity while learning choreography from various genres and styles of dance:
Creative Dance
Contemporary Dance
Jazz
Hip-Hop
Fusion
Dancers will also explore the elements of dance-building, collaborating with teaching artists and peers to create their own unique choreography.
Engaging workshops on health and wellness, life and leadership skills, and literacy complete the camp experience. 
Field trips, games, and arts & crafts are also part of the fun!
At the end of Week 4, students who participate in the last two weeks of camp will perform a special show for family and friends.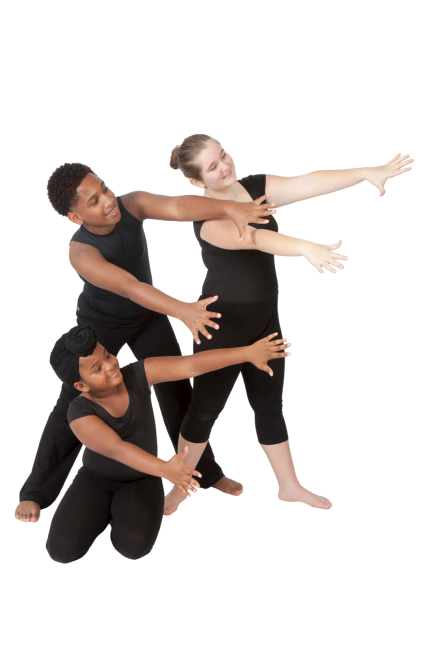 Summer Dance Camp
July 5-28, 2023
Monday through Friday, 9 AM – 5 PM.
Week 1: July 5-7, 2023 ($150 max) 

Week 2: July 10-14, 2023 ($250 max) 

Week 3: July 17-21, 2023 ($250 max) 

Week 4: July 24-28, 2023 ($250 max)
To help with affordability, our camp tuition is based on a sliding scale structure, offering a range of different tuition rates based on household income. Many families are surprised they qualify – visit our sliding scale tuition page to learn more. You can apply for sliding scale tuition during the enrollment process.
Moving in the Spirit offers a 25% sibling discount for any additional child. Discounted tuition is $112.50 for Week 1 and $187.50 for Weeks 2, 3 and 4.
Students can enroll for the whole series (preferred), or on a week-by week basis.
Before Care (7:30 AM – 9 AM) & After Care (5 PM – 6 PM) are available for an additional $50/week per student. Families receiving sliding scale tuition can enroll in before/after care for $10/week.
Why join Summer Dance Camp?
Moving in the Spirit provides a safe, nurturing environment that unlocks young people's creativity and potential. 
Camp directors Chris McCord and Alina Hinton, both alumni of Moving in the Spirit, provide personalized attention to each camper and serve as role models who fully embody the principles of our program. 
Your child will make friends, stay active, and hone their technique in a variety of dance styles, all while forging bonds over an unforgettable summer. 
Creating with a community of peers, they'll not only build dances – they'll build the confidence that comes with learning to express and share their voices.
"Moving in the Spirit's Dance Camp was the BEST! I loved dancing, making new friends, and trying my best at being a leader and not being a follower."
"We had lots of fun at Moving in the Spirit and learned types of dance from around the world. It was a really great experience, and if I do this again, I wouldn't want anything to change!"
"Camp was a great experience. I love it! It not only helped me with my dancing, but some of the Moving in the Spirit teachers helped me control my emotions. 10/10!"
"The best part about the camp was making my own dances and learning new dance moves."
"I really liked how we got to think about our future and ourselves during the 'family time' workshops."
"I loved making new friends and getting to do more than just one type of dance."